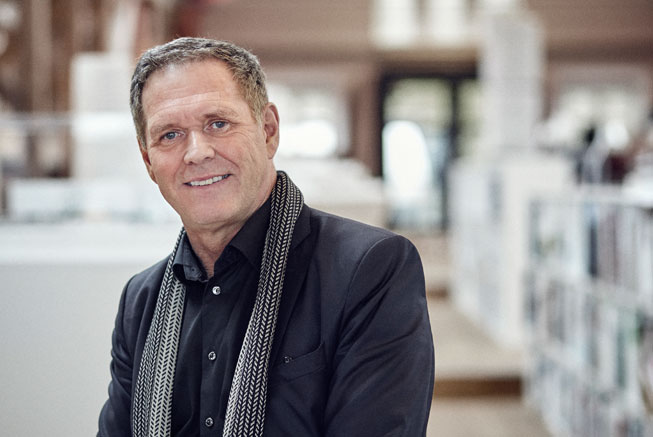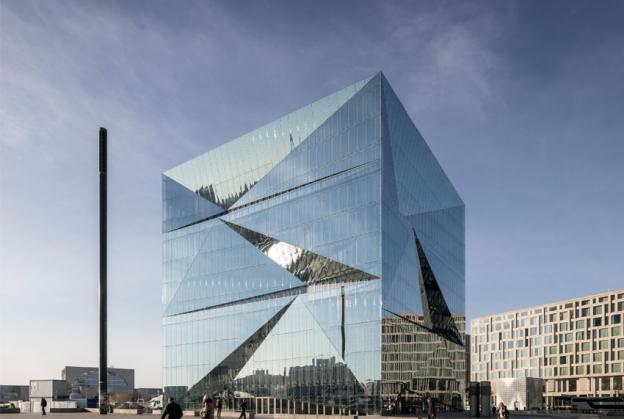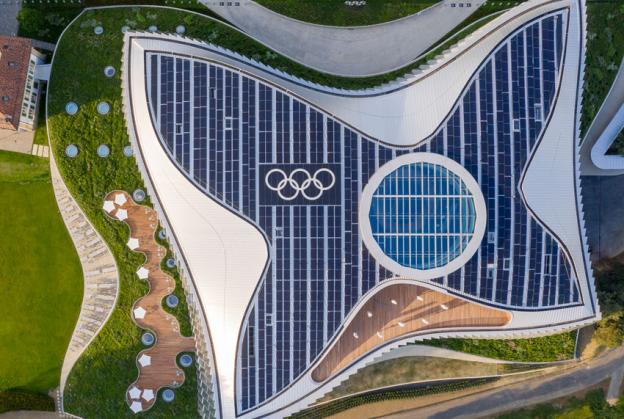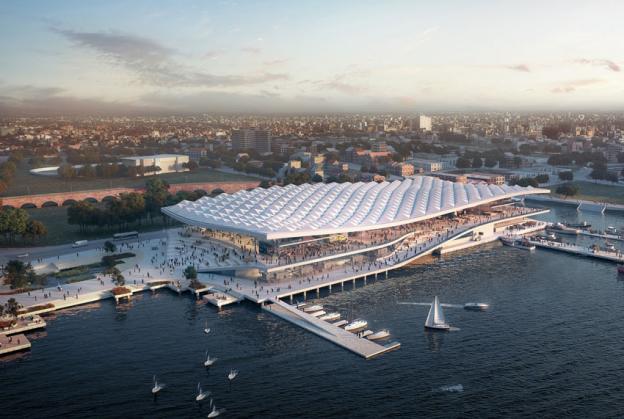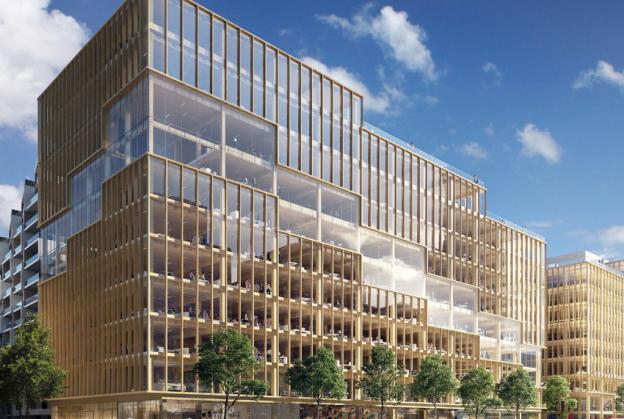 Kim Herforth Nielsen – Founder, Principal & Creative Director, 3XN
3XN was founded in Aarhus, Denmark in 1986 by young architects Kim Herforth Nielsen, Lars Frank Nielsen and Hans Peter Svendler Nielsen: the 'Three Nielsens'. Since those early days, the practice has extended its reach around the globe, always with "a vision of clarity and generosity founded in Scandinavian traditions, but with a clear outlook to the world".
Research and innovation lie at the core of 3XN's work, and one of their most high-profile projects is currently recognised as the most sustainable building in the world. It also boasts an inspirational façade, based on an athlete in motion…read on to find out more. We also ask Kim about what he describes as 'the smartest building in Europe' – the cube berlin with its striking reflective glazing. But first, we ask Kim what's in a name…
We're curious to know if the practice name – 3XN – stands for 'three times Nielsen' by any chance?
Yes, it does. At that time, we were known as Nielsen, Nielsen & Nielsen. Today, I am the remaining Founding Partner, and our headquarters are now located in Copenhagen, Denmark. We also operate locations in New York, Sydney, Stockholm, and London.
Many of your studio's projects feature especially striking façades. For example, cube berlin works on a kaleidoscopic principle to give dramatic reflections of its surroundings on Washingtonplatz. What was the inspiration behind the design of this prominent office building?
With this project, we aimed to create a real sculptural landmark for the city of Berlin. We wanted something that would give back to this dynamic and historic city in new ways. We were also inspired to integrate sustainability through innovative use of materials and digital advances.
The site is located immediately across from the Berlin Central Railway Station, and there are many landmark buildings within eyesight too. So, we had the idea that cube berlin should literally reflect its location. The resulting design achieves this through s a fully-faceted cube design. It's fun to see passers by stopping and taking selfies with the building today.
And how was the envelope realised? Were there any particular challenges in creating the Cube's façade?
There were a few challenges along the way. First of all, according to the brief, we could not make an office building that looked like a 'traditional' office building. Another challenge was to create a fully glazed façade that was also highly energy efficient. In the end, we accomplished this through the application of a special coating on the inner side of the glazing.
It was also challenging to design a façade that incorporated outdoor terraces at all levels. The idea was that the terraces should be integrated in the façade – yet it was a requirement that they not be viewable from street level. We solved this challenge via a special double skin concept. So, one can say that cube berlin presents an interesting paradox: it is a wildly complex sculpture disguised as a highly streamlined iteration. I am very grateful to 3XN Partner-in-Charge, Torben Østergaard, for doing such a great job on this project.
You describe The Cube as 'the smartest building in Europe'. Can you elaborate a little please?
We call cube berlin Europe's smartest building because of its smart AI functionalities and sustainability features, which are integrated throughout via digital solutions. These allow users to communicate with the various building systems in an ongoing way – from the moment they enter the building to the moment they leave.
Users download an app onto their own smart phone to interact with cube berlin. This app provides a great deal of services and information such as climate control, ventilation options, wayfinding, and even booking meeting space and parking.
These systems are all interconnected through a building "brain" – that's the really smart thing about cube berlin: individual systems are connected to a single server. In this way, the building is also sustainable as it saves energy, while optimising building operations. This creates a win-win scenario where user comfort is maximised, while costs and energy loss are minimised.
Another of your many stand-out projects is that of the new International Olympic Committee (IOC) headquarters building, Olympic House in Lausanne, Switzerland. Here, 3XN has emulated the movement of an athlete in the façade. How has this been achieved?
The vision throughout the process was that the new headquarters should literally embody sport and its associated values. The shape of Olympic House and the façade faceting is inspired by an athlete in movement – which was exactly what the IOC client was looking for. The façade also has a self-shading effect that protects from sun heat while still allowing – and even optimising - the intake of daylight. We have a team of designers here at 3XN that includes parametric designers – and they were able to translate the visions of movement into the design of Olympic House while optimising the façade with the energy efficient features.
And Olympic House currently holds the honour of being the most sustainable building in the world, with the highest score ever given for its LEED v4 Platinum accreditation. Tell us some of the measures you put in place in order to set such an impressive benchmark, and will those now roll out into your future projects?
Olympic House was an amazing project for 3XN – and really highlights our firm's focus on sustainability in the built environment. The building is designed to embody the symbolism of the Olympic Games and needs of the IOC as an organisation. As such, the design is grounded upon three key focus areas: movement, sustainability and flexibility.
To achieve our sustainability goals for this design, we incorporated such features as a sun-shading façade; a green roof and terraces; low flow water taps and toilets, and rainwater capture which significantly reduces the building's use of water. We also included rooftop solar panels which reduce the need for electricity supply from the grid.
Last, we ensured that healthy and comfortable working environments were designed for the users of Olympic House; sustainability is also about wellbeing. We focussed on providing healthy air quality and ventilation, plenty of daylight, and optimal outdoor views that can be enjoyed from the workstations.
And yes - we always apply learnings from our completed projects into our next projects.
How do you see façade design changing in the next five to ten years?
I think that advances in robotics and AI will have a big impact on façade design in the coming years. We already see that shapes, forms and pattens can be formed using parametric design, which allows us to design and build creatively in a much smarter way.
Sometimes the most fluid patterns and textures are really just the result of a few repeating patterns that a robot was able to create.
As a practice, 3XN believes 'that architecture shapes behaviour'. Can you give a couple of illustrations of this?
We believe that good, thoughtful and research-based design contributes to well-being and even thriving. Good architecture can get people communicating and interacting in ways they never have before. It can also help to shape corporate culture into a more embracing, social environment where people across all divisions can interact freely.
Our in-house innovation company, GXN, has also done extensive research into behaviour, and this helps shape the architecture of 3XN. We have learned through supporting PhD research - for example - that large, open staircases placed centrally with visual contact between floors within a building really stimulate human interaction and encourage people to get active in amazing ways.
What is GXN Innovation about, and how and why did it come in to being?
GXN is 3XN's sister "in-house" innovation company. GXN came about when I took the initiative to hire Kasper Guldager Jensen, who has been a Senior Partner with us for many years. Founded in 2007, GXN has a focus on applied architectural research in green materials and building technologies. The 'G' stands for Green, highlighting GXN's dedication to ecological design research through digital processes and innovative material solutions.
Today, we have about 20 researchers within the GXN group, focussed on three main areas: behaviour, circularity, and digital design.
Has 3XN got some exciting new projects in the pipeline you can tell us about?
We have quite a number of exciting projects on the go, spanning several continents. Among them are the new Sydney Fish Market – which will be a cultural catalyst that will gather locals, tourists and the community around this world-class gastronomical destination (we are collaborating with GXN, BVN, Aspect Studios, WallnerWeiss).
In Toronto, we have T3 Bayside, with local practice WZMH Architects, which will be the tallest office timber building in North America when it is completed.
In London, we are working on Broadgate/Finsbury Avenue. This will be a very exciting project and I am looking forward to sharing more details very soon.
A new congress centre in France, the Palais des Congrès, will be located in the heritage-rich city centre of Nîmes. The design is very elegant, and really respects the historical surroundings of the site (together with the commune of Chabanne).
Our website and social media channels are constantly being updated with latest news – do keep an eye out for other upcoming announcements.
On a more personal level, were you born to become an architect, or was it something that came to you later on in your life?
No, I was not born to be an architect. Actually, I wanted to be a pilot when I was young. I found out that I wanted to become an architect when I was travelling in New Zealand for six months. While there, I met some local architecture students that were so enthusiastic about their subject and I discovered that I had the same passion. So, I ended up travelling around New Zealand, looking at architecture. When I returned to Denmark, I started architecture school in Aarhus.
What were some of your early inspirations, and what inspires you now?
I was especially inspired by the shift from modern functionalism into postmodernism and pragmatism. It was an interesting time, and there were many debates about architecture and where it was heading. I was drawn to the benefits of diversity and the theories of architects such as Rem Koolhaas and his book and retroactive manifesto 'Delirious New York' that analysed the development of architecture and urban design throughout New York's history.
A good friend of mine, Hans Peter Svendler, who was one of the co-founders of 3 x Nielsen, was very much into architecture theory and history. He was a great inspiration and we had many good discussions about how architecture should move forward, which led to the creation of 3 x Nielsen.
Today in my work as an architect, I find inspiration in nature. At 3XN, we create design with forms that also have a functional benefit – just like you see in nature.
What might we find you doing when you're not working?
When I am not working, I enjoy myself with family and friends. I like to travel – both for work and for pleasure – and I get inspiration through different cultures, people, foods, and so on.
I also enjoy films and art. Film is about staging and so is architecture. You could say that architects set the scene for real life. I am especially fond of Stanley Kubrick and Ridley Scott and the futuristic universes they create in their movies – examples include A Space Odyssey and Blade Runner. I appreciate many other artists too. To name a few, I am fond of James Turrell's colourful light installations and Olafur Elisson's play with perception.